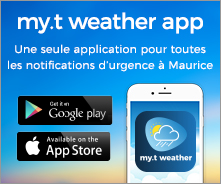 News and Events
The Summer 2022-2023 Outlook gives an indication of the expected evolution of the 2022-2023 South West Indian Ocean (SWIO) summer namely: cyclone activity, summer rain and temperature in Mauritius...
Climate of Mauritius
Mauritius enjoys a mild tropical maritime climate throughout the year. The country has two seasons: a warm humid summer extending from November to April and a relatively cool dry winter from June to September. The month of October and May are commonly known as the transition months.
Mean summer temperature is 24.7 degrees Celsius and mean winter temperature is 20.4 degrees Celsius. The temperature difference between the seasons is only 4.3 degrees Celsius.
The warmest months are January and February with average day maximum temperature reaching 29.2 degrees Celsius and the coolest months are July and August when average night minimum temperatures drops down to 16.4 degrees Celsius.
Long term mean annual rainfall (1971-2000) over the Island is 2010 mm. The wettest months are February and March. The driest month is October.
Mean summer rainfall (1971-2000) is 1344 mm, which is 67% of the annual amount over the Island. Mean winter rainfall (1971-2000) is 666 mm. Although there is no marked rainy season, most of the rainfall occurs in summer months.
The Island receives 6.5 to above 8 hours of bright sunshine daily. In summer months around 6.0 hours of bright sunshine are received over the high grounds, whereas the coastal regions are exposed to 7.5 to over 8.0 hours of bright sunshine. In winter months, the Central Plateau receives around 5.0 hours of bright sunshine whereas the coast receives above 7.5 hours of bright sunshine.
The climatology of the Island for the regions West, North, East, South and Centre is summarized in the pdf documents below. Medine, Pamplemousses, Fuel, Plaisance and Vacoas are considered to be representative of the above five respective regions.