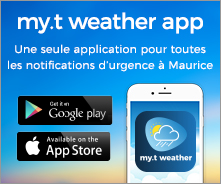 Forecast Bulletin - Mauritius
WEATHER NEWS FOR MAURITIUS ISSUED AT 16H30 ON TUESDAY 19 MARCH 2019.
GENERAL SITUATION:
A moderate airstream is flowing over our region.
FORECAST FOR NEXT 24 HOURS:
Fair weather in the evening. Afterwards, there will be cloudy periods with passing showers. The showers may be moderate at times with isolated thinderstorms.
The minimum temperature will be between 21 and 23 degrees Celsius over the central plateau and between 24 and 26 degrees Celsius along the coastal regions.
Cloudy periods tomorrow morning with showers at times. Partly cloudy in the afternoon with isolated showers mostly over the high grounds.
The maximum temperature will be between 27 and 29 degrees Celsius over the high grounds and between 31 and 33 degrees Celsius elsewhere.
Wind Easterly 20 km/h , strengthening further tomorrow.
Sea moderate beyond the reefs.
High Tides : Tomorrow 00h58 and 12h44.
Low Tides : 18h38 and tomorrow 07h08.
Sunrise (Tomorrow) : 06h13.
Sunset (Tomorrow) : 18h21.
Atmospheric pressure at 16h00 : 1011 hectopascals.