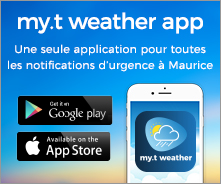 Forecast Bulletin - Mauritius
WEATHER NEWS FOR MAURITIUS ISSUED AT 1630 HOURS ON SUNDAY 04 DECEMBER 2022.

GENERAL SITUATION:
A light wind is blowing over our region.

FORECAST FOR THE NEXT 24 HOURS:
Clear sky tonight.

The minimum temperature will vary between 17 and 19 degrees Celsius over the central plateau and between 21 and 23 degrees Celsius over the coastal regions.

The weather will be fair tomorrow except for few temporary clouds development in the afternoon over the Western part of the island.

The maximum temperature will vary between 27 and 29 degrees Celsius over the central plateau and between 30 and 32 degrees Celsius along the coasts.

Wind from the Eastern sector at about 15 km/h, slightly strenghening tomorrow.

Sea moderate with waves of the order of 1 metre 50 beyond the reefs.
High Tides : 23h45 and tomorrow 11h06.
Low Tides : 17h36 and tomorrow 05h25.
Sunrise (tomorrow) : 05h21.
Sunset (tomorrow) : 18h39.
The atmospheric pressure at 16h00: 1013 hectoPascals.