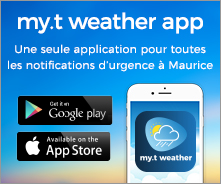 Forecast Bulletin - Mauritius
WEATHER NEWS FOR MAURITIUS ISSUED AT 04H25 THIS THURSDAY 24 JANUARY 2019.
GENERAL SITUATION:
A light, warm and rather unstable airstream is flowing over our region.
On the other hand, the heat wave still persists over the island.
FORECAST FOR NEXT 24 HOURS:
Partly cloudy in the morning with a few isolated showers mainly to the East and over the Central Plateau.Sunny over the whole island during the day.
However, the sky will become temporarily cloudy mainly to the West, South-West and over the Central Plateau with localised showers.
The maximum temperature will be 3 to 4 degrees Celsius above normal varying between 28 and 31 degrees Celsius over the Central Plateau and between 32 and 35 degrees Celsius along the coasts.

The sky will gradually clear up at night with however a few isolated showers over the high grounds.
The minimum temperature will be between 19 and 22 degrees Celsius over the high grounds and between 23 and 26 degrees Celsius along the coastal regions.
Wind East-North-Easterly at 15 km/h, becoming light and variable at night.
Sea moderate beyond the reefs .
High Tides : 15h13 and tomorrow 04h19.
Low Tides : 09h48 and 21h58.
Sunrise : 05h49.
Sunset : 18h55.
Atmospheric pressure at 04h00 : 1014 hectoPascals.