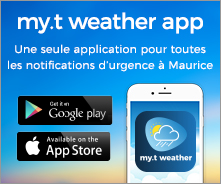 Forecast Bulletin - Mauritius
WEATHER NEWS FOR MAURITIUS ISSUED AT 16H30 THIS SUNDAY 18 FEBRUARY 2018.
GENERAL SITUATION:
The air mass covering our region remains warm, moist and unstable.
On the other hand, clouds associated with an instability line are approaching slowly from the East and will influence the weather late tonight.


FORECAST FOR NEXT 24 HOURS:
Gradually cloudy during the night with thundery showers to the East, North and over the Central Plateau. The showers could spread to other sectors late at night. Water accumulation and fog patches are also expected in certain places.

The minimum temperature will be around 22 degrees Celsius over the high grounds and will vary between 24 and 27 degrees Celsius elsewhere.

Other clouds will develop over the island tomorrow during the day with localised showers.
The showers will be moderate to heavy in places and may cause water accumulation.

The maximum temperature will remain above the mean with 26 to 29 degrees Celsius over the Central Plateau and 31 to 33 degrees Celsius elsewhere.


Wind light and variable tonight and will blow from the East at 15 km/h tomorrow.

Sea moderate beyond the reefs.

Some useful advices:
1. Visibility will be greatly reduced in showers and mainly due to fog. Road users are advised to be very cautious.
2. Rivers and other water courses may be flooded. It is strongly advised to avoid these places.
3. In case of thunderstorms, the public is advised to remain in safe places and avoid open areas, sea ventures and sheltering under trees.
High Tides: Tomorrow 02h58 and 14h54.
Low Tides: 20h54 and tomorrow 08h58.
Sunrise (Tomorrow): 06h04.
Sunset (Tomorrow): 18h44.
Atmospheric pressure at 16h00: 1012 hectopascals.