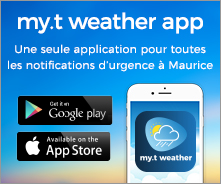 Forecast Bulletin - Mauritius
WEATHER NEWS FOR MAURITIUS ISSUED AT 16H30 HOURS ON THURSDAY 24 JUNE 2021.


GENERAL SITUATION:
The presence of the anticyclone south of the Mascarene Islands is maintaining a cold air mass over our region.

FORECAST FOR THE NEXT 24 HOURS:
Partly cloudy tonight and tomorrow morning becoming occasionally cloudy to the East, South and Central Plateau with showers.
The minimum temperature will be 2 to 3 degrees Celsius below the mean, with 12 to 15 degrees Celsius over the Central Plateau and 17 to 20 degrees Celsius along the coastal regions.

Mainly fair tomorrow during the day.
The maximum temperature will vary between 19 and 22 degrees Celsius over Central Plateau and between 24 and 27 degrees Celsius along the coasts.


Wind East-South-Easterly at about 25 km/h with peaks of 50 km/h in exposed areas.

Sea moderate beyond the reefs with southerly swells of 2 metres.

High Tides : Tomorrow 00h39 and 13h13.
Low Tides : 19h00 and tomorrow 07h36.
Sunrise (Tomorrow) : 06h45.
Sunset (Tomorrow) : 17h39.
Atmospheric pressure at 16h00 : 1021 hectoPascals.