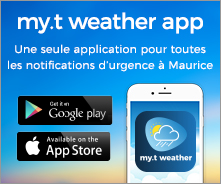 Forecast Bulletin - Mauritius
WEATHER NEWS FOR MAURITIUS ISSUED AT 04H30 ON MONDAY 30 NOVEMBER 2020.
GENERAL SITUATION:
Clouds in the easterly flux will influence local weather during the day

FORECAST FOR THE NEXT 24 HOURS:
Cloudy periods in the morning and during the day over the eastern half and over the highgrounds with showers at times.
Partly cloudy elsewhere with isolated showers.
The maximum temperature will vary between 23 and 26 degrees Celsius over the highgrounds and between 28 and 31 degrees Celsius along the coasts.

Partly cloudy to cloudy at times tonight with showers mainly over the highgrounds.
The minimum temperature will vary between 17 and 20 degrees Celsius over the Central Plateau and between 21 and 24 degrees Celsius along the coastal regions.

Wind from the Eastern sector, blowing at about 20 km/h.

Sea moderate in open seas with waves of 2 metres.


Supplementary Information:
There will be a penumbral eclipse of the moon today, Monday 30 November 2020.
The eclipse will start at 11h30 in the morning and will end at 15h56 in the afternoon. It will not be visible in Mauritius/Rodrigues/Agalega.
High Tides : 12h20 and tomorrow 01h26.
Low Tides : 06h36 and 18h52.
Sunrise : 05h21.
Sunset : 18h36.
Atmospheric pressure at 04h00 : 1013 hectoPascals.