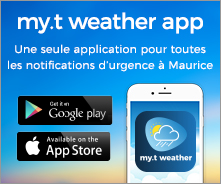 Forecast Bulletin - Mauritius
WEATHER NEWS FOR MAURITIUS ISSUED AT 04H20 THIS MONDAY 22 JULY 2019.

GENERAL SITUATION:
(A) Clouds associated with a cold front will influence the local weather during the day.

(B) Afterwards, a rather strong anticyclone will cause a windy and relatively cold weather over our region.


FORECAST FOR NEXT 24 HOURS:
Fair weather in general this morning.
Gradually cloudy during the day with showers, moderate at times, over the southern part of the island and the Central Plateau.
The showers will become more frequent in the late afternoon and will spread in the other sectors.


The maximum temperature will be 20 to 23 degrees Celsius over the highgrounds and between 25 and 28 degrees Celsius along the coasts.



Scattered showers will persist over the whole island in the evening. Partly cloudy afterwards with few showers mainly over the Central Plateau.

The minimum temperature will be 13 to 15 degrees Celsius over the highgrounds and will vary between 17 and 20 degrees Celsius elsewhere.


Wind light and variable this morning.
The wind will strengthen from the southern sector during the day with a mean speed of 25 km/h and gusts that may reach 70 km/h over exposed areas.
As from this afternoon, the public is advised to be cautious while manoeuvring over high structures and while driving due to cross winds.


Sea moderate beyond the reefs becoming gradually rough with southerly swells of the order of 3 metres.
These swells could also influence the Western and Southern lagoons during high tides.
Ventures in the open seas are not advised, as well as in the western and southern lagoons during high tides.
High Tides : 16h20 and tomorrow 03h45.
Low Tides : 09h58 and 22h03.
Sunrise : 06h44.
Sunset : 17h49.
Atmospheric pressure at 04h00 : 1015 hectoPascals.