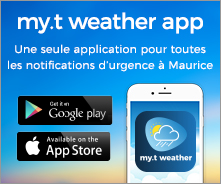 Forecast Bulletin - Mauritius
WEATHER NEWS FOR MAURITIUS ISSUED AT 11H30 ON SUNDAY 29 MARCH 2020.
GENERAL SITUATION :
A slightly perturbed and rather moist airstream is flowing over our region.
FORECAST FOR NEXT 24 HOURS :
Partly cloudy early in the afternoon. Cloudy periods afterwards over the Eastern part of the island and over the Central Plateau with passing showers.
The showers may temporarily spread in the other sectors.

The maximum temperature will vary between 24 and 27 degrees Celsius over the highgrounds and will vary between 29 and 32 degrees Celsius along the coastal regions.

During the night and tomorrow morning, few passing showers are still expected over the Eastern part and over the Central Plateau.
Elsewhere, the sky will be partly cloudy.

The minimum temperature will be around 20 degrees Celsius over the highgrounds and will vary between 23 and 26 degrees Celsius elsewhere.


Wind from the Eastern sector 15 to 25 km/h.


Sea moderate beyond the reefs, becoming temporarily rough during the night with waves of the order of 2.5 metres.
Ventures in the open seas are not advised during the night.
High Tides : 15h33 and tomorrow 03h21.
Low Tides : 21h25 and tomorrow 09h49.
Sunset : 18h12.
Sunrise (Tomorrow) : 06h17.