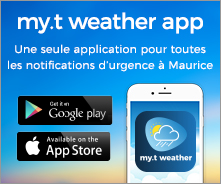 Forecast Bulletin - Mauritius
WEATHER NEWS FOR MAURITIUS ISSUED AT 16H30 ON SUNDAY 26 JANUARY 2020.
GENERAL SITUATION:
A moderate airstream is flowing over our region.
On the other hand, clouds coming from the South are influencing the weather.

FORECAST FOR NEXT 24 HOURS:
Cloudy periods tonight with occasional showers mainly over the highgrounds and the Southern part of the island. There may also be fog paches over highgrounds.

The minimum temperature will be around 21 degrees Celsius over the Central Plateau and will vary between 23 and 25 degrees Celsius elsewhere.

Occasional showers are expected tomorrow morning mainly over the highgrounds, partly cloudy elsewhere. The weather will be fine during the day.

The maximum temperature will vary between 24 and 27 degrees Celsius over the Central Plateau and between 29 and 32 degrees Celsius along the coastal regions.

Wind will blow from the south at about 25 km/h and gusts which may reach 55 km/h in exposed areas.

The sea will be rough in the open seas.
It is strongly advised not to venture in the open seas and as well as in the Southern and Eastern lagoons. The state of the lagoons will improve as from tomorrow morning.

Supplementary Information:
During the day the Severe Tropical Storm DIANE weakened into a post tropical depression and as well as for the moderate tropical storm ESAMI which has also weakened in a post tropical depression.
They are both evolving very far from our region and will not influence the weather.
High Tides : Tomorrow 02h45 and 14h17.
Low Tides : 20h34 and tomorrow 08h34.
Sunrise (Tomorrow) : 05h50.
Sunset (Tomorrow) : 18h54.
Atmospheric pressure at 16h00 : 1011 hectoPascals.