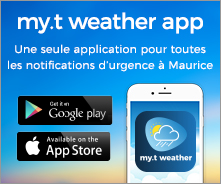 Forecast Bulletin - Mauritius
WEATHER NEWS FOR MAURITIUS ISSUED AT 16H30 ON FRIDAY 23 APRIL 2021.
GENERAL SITUATION:
The atmospheric conditions remain moist and unstable over our region.
On the other hand, an instability line is evolving to the North East of the island.

FORECAST FOR THE NEXT 24 HOURS:
The sky remains cloudy to overcast with mainly medium and high clouds.
At times, clouds in low altitude coming from eastern sector will cause showers over the eastern part of the island and over the Central Plateau during the night and early tomorrow morning.
The showers could be temporarily moderate to locally heavy at times with risks of thunderstorms.
The heavy showers of short duration could cause water accumulation in certain regions.
Fog patches are also expected, especially over the highgrounds.

The minimum temperature will vary between 20 and 22 degrees Celsius over the Central Plateau and will vary between 23 and 25 degrees Celsius over the coastal regions.

The showers will become less frequent tomorrow during the day.

The maximum temperature will vary between 24 and 26 degrees Celsius over the central plateau and between 28 to 31 degrees Celsius along the coasts.

Wind East South Easterly 20km/h with peaks of 50 km/h in showers.

Sea moderate with South-Westerly swells of the order of 2 meters beyond the reefs, becoming gradually rough early tomorrow morning.
Ventures in open sea are not advised as from early tomorrow morning.

Practical advice for the night:
1. Avoid places subject to accumulations of water, near rivers and other watercourses flooding and flood zones.
2. Be very careful when traveling, taking into account that the visibility could be considerably reduced due to the presence of fog patches and during showers.
3. In case of thunderstorms, avoid the plains, ventures at sea and sheltering under trees.

Supplementary Info:
The moderate tropical storm JOBO is evolving in the Mozambique channel. At 1600 hours, it is evolving around the point 8.9 degrees South in latitude and 43.8 degrees East in longitude.

High Tides : 23h27 and tomorrow 11h15.
Low Tides : Tomorrow 05h39 and 17h33.
Sunrise (Tomorrow) : 06h24.
Sunset (Tomorrow) : 17h51.
Atmospheric pressure at 16h00 : 1015 hectoPascals.