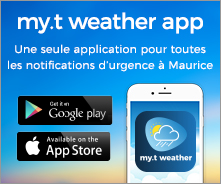 Forecast Bulletin - Mauritius
WEATHER NEWS FOR MAURITIUS ISSUED AT 16H30 HOURS ON SATURDAY 18 SEPTEMBER 2021.
GENERAL SITUATION:

Clouds associated with another frontal system will influence the local weather tomorrow morning. Thereafter, the anticyclone approaching the Mascarene Islands from the south west will cause moderate and cold trades over the region, causing a gradual drop in temperature.


FORECAST FOR THE NEXT 24 HOURS:


Fair weather tonight.
The minimum temperature will vary between 16 and 18 degrees Celsius over the highgrounds and between 20 and 22 degrees Celsius over the coastal regions.

Rather cloudy tomorrow morning with passing showers mainly over the southern half of the island and over the central plateau.
The sky will clear up gradually during the day.
The maximum temperature will vary between 21 and 24 degrees Celsius over the central plateau and between 25 and 27 degrees Celsius along the coasts


Wind from the western sector at about 10 km/h tonight.
The wind will gradually turn to the South tomorrow with a mean speed of 20 km/h.

Sea moderate beyond the reefs with waves of 2 metres.
High Tides : 23h52 and tomorrow 12h36.
Low Tides : 18h23 and tomorrow 06h26.
Sunrise (Tomorrow) : 06h02.
Sunset (Tomorrow) : 18h05.
Atmospheric pressure at 16h00 : 1012 hectoPascals.