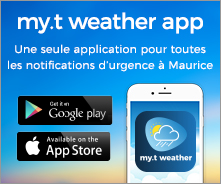 Forecast Bulletin - Mauritius
WEATHER NEWS FOR MAURITIUS ISSUED AT 16H30 ON MONDAY 18 NOVEMBER 2019.
GENERAL SITUATION:

A light and relatively warm airstream is flowing over our region.

FORECAST FOR NEXT 24 HOURS:

Partly cloudy in the evening. The sky will clear up afterwards.

The minimum temperature will be around 20 degrees Celsius over the high grounds and will vary between 22 and 25 degrees Celsius along the coastal regions.

Sunny over most places of the island tomorrow, except for some temporary cloud development over the Central Plateau late in the afternoon with localised showers.

The maximum temperature will be above the mean by 2 degrees Celsius with 25 to 28 degrees Celsius over the Central Plateau and 30 to 33 degrees Celsius elsewhere.

Wind will be light and variable tonight and will blow from the Eastern sector at a mean of 15 km/h tomorrow.

Sea moderate beyond the reefs.
High Tides : Tomorrow 07h58 and 17h29.
Low Tides : 23h00 and tomorrow 13h13.
Sunrise (Tomorrow) : 05h22.
Sunset (Tomorrow) : 18h29.
Atmospheric pressure at 16h00 : 1016 hectoPascals.