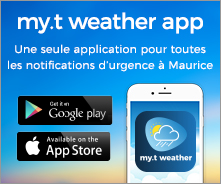 Forecast Bulletin - Mauritius
WEATHER NEWS FOR MAURITIUS ISSUED AT 16H30 THIS WEDNESDAY 22 MAY 2019.

GENERAL SITUATION:
Clouds associated with the instability line coming from the East will influence the local weather late tonight.


FORECAST FOR NEXT 24 HOURS:
Partly cloudy early tonight.
Cloudy afterwards with few showers over the Eastern part and the Central Plateau.

The minimum temperature will be around 18 degrees Celsius over the high grounds and will vary between 21 and 24 degrees Celsius elsewhere.

Tomorrow morning, the showers will persist mainly over the high grounds.
The sky will clear up gradually during the day.

The maximum temperature will vary between 23 and 25 degrees Celsius over the Central Plateau and will vary between 27 and 30 degrees Celsius along the coastal regions.

Wind will be light and variable tonight and will blow from the Eastern sector tomorrow at 20 km/h.

Sea moderate beyond the reefs.
High Tides : Tomorrow 02h35 and 16h24.
Low Tides : 21h04 and tomorrow 09h53.
Sunrise (Tomorrow) : 06h34.
Sunset (Tomorrow) : 17h39.
Atmospheric pressure at 16h00 : 1017 hectopascals.