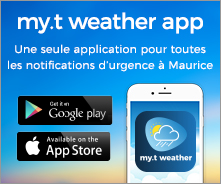 Publications
News and Events
The Summer 2022-2023 Outlook gives an indication of the expected evolution of the 2022-2023 South West Indian Ocean (SWIO) summer namely: cyclone activity, summer rain and temperature in Mauritius...
Publications
Meteorological data from the MMS are presented in four regular publications:-
The Annual Report of the Meteorological Services.
A monthly bulletin 'Meteorological Observations and Climatological Summaries'. The bulletin contains a record of meteorological observations made in Mauritius, Rodrigues, Agalega and St Brandon.
Agrometeorological bulletin in Pentads for sugarcane plantations, which appear twice monthly in the "Gazette". These are also circulated in a duplicate form to sugar estates, government institutions and other stakeholders upon request.
An Annual Ephemerides which contains Tidal Predictions for Mauritius and Rodrigues. This additionally includes information about eclipses, sunrise, sunset, moonrise, and moonset.
Seasonal climate prediction is issued twice every year, namely prior to the start of summer and winter seasons. Occasional technical papers are also published on an ad hoc basis.
A technical report on the cyclone season of the South-West Indian Ocean was first published in 1976 and is now a regular annual publication of the Meteorological Services. Case studies and other technical papers on research and investigations are published on an ad hoc basis.
Rainfall Summary