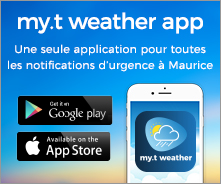 Tides Mauritius
Tidal Predictions in Mauritius for February and March 2019
FEBRUARY 2019

Date

1st High Tide

2nd High Tide

1st Low Tide

2nd Low Tide

Time (Local)

Height (cm)

Time (Local)

Height (cm)

Time (Local)

Height (cm)

Time (Local)

Height (cm)

01

00:33

64

11:37

64

06:26

45

18:24

24

02

00:50

66

12:04

68

06:43

44

18:51

22

03

01:08

69

12:31

72

07:00

43

19:16

21

04

01:29

71

12:57

75

07:19

42

19:40

21

05

01:52

73

13:24

77

07:40

41

20:04

22

06

02:16

74

13:50

78

08:01

41

20:28

24

07

02:39

75

14:15

77

08:23

41

20:51

26

08

03:02

75

14:42

75

08:48

40

21:16

29

09

03:26

74

15:11

72

09:16

40

21:43

33

10

03:53

72

15:44

67

09:51

40

22:13

38

11

04:24

69

16:25

61

10:36

41

22:54

42

12

05:03

66

17:37

55

11:46

42

-

-

13

06:05

63

22:11

55

00:15

47

13:35

41

14

07:46

61

23:10

61

02:10

50

15:22

37

15

09:21

64

23:44

68

03:57

49

16:36

30

16

10:30

70

-

-

05:08

45

17:27

24

17

00:16

74

11:23

77

05:56

40

18:11

18

18

00:49

80

12:10

84

06:39

37

18:53

14

19

01:22

85

12:54

88

07:21

33

19:35

13

20

01:57

87

13:37

90

08:03

32

20:15

15

21

02:32

87

14:20

88

08:46

31

20:56

20

22

03:06

84

15:02

83

09:29

32

21:35

27

23

03:39

79

15:46

76

10:14

34

22:14

35

24

04:10

73

16:33

68

11:01

37

22:53

43

25

04:36

67

17:34

59

11:59

40

23:37

51

26

04:51

61

22:57

57

13:25

42

-

-

27

-

-

23:48

61

15:53

40

-

-

28

10:41

57*

-

-

06:14

52*

17:07

36
* Tidal variations ≤ 5cm
MARCH 2019

Date

1st High Tide

2nd High Tide

1st Low Tide

2nd Low Tide

Time (Local)

Height (cm)

Time (Local)

Height (cm)

Time (Local)

Height (cm)

Time (Local)

Height (cm)

01

00:13

64

11:13

61

06:23

49

17:45

32

02

00:28

67

11:37

65

06:33

47

18:13

29

03

00:39

70

12:00

70

06:43

46

18:36

27

04

00:52

73

12:23

74

06:56

44

18:58

26

05

01:09

75

12:48

77

07:11

43

19:20

26

06

01:28

77

13:12

80

07:28

41

19:42

27

07

01:46

79

13:36

81

07:45

39

20:03

28

08

02:06

80

14:01

80

08:05

38

20:26

30

09

02:26

79

14:28

78

08:27

36

20:50

33

10

02:48

78

14:57

75

08:54

35

21:15

36

11

03:12

76

15:30

70

09:24

36

21:42

41

12

03:40

73

16:10

64

10:01

37

22:15

46

13

04:13

68

17:19

58

10:56

39

23:31

52

14

05:04

64

22:25

59

12:41

41

-

-

15

07:09

60

22:59

66

02:05

54

14:59

39

16

09:16

64

23:27

73

04:17

51

16:25

32

17

10:27

72

23:56

79

05:10

45

17:16

26

18

11:17

80

-

-

05:51

39

17:58

21

19

00:27

85

12:02

86

06:29

34

18:38

18

20

00:58

89

12:44

90

07:08

30

19:17

18

21

01:29

90

13:26

91

07:46

28

19:54

21

22

02:00

89

14:06

89

08:25

27

20:31

27

23

02:30

86

14:47

83

09:03

28

21:06

33

24

02:57

80

15:27

76

09:41

30

21:39

41

25

03:20

74

16:10

68

10:20

34

22:09

48

26

03:36

68

17:03

60

11:06

38

22:31

53

27

03:28

62

-

-

12:18

42

-

-

28

02:24

59

23:36

62

14:45

42

-

-

29

10:22

54*

23:48

65

06:33

52*

16:30

39

30

10:55

59

23:56

68

06:11

49

17:12

35

31

11:19

64

-

-

06:12

47

17:41

33
* Tidal variations ≤ 5cm
Please note that as from January 2015, the height of tides is given with reference to the Admiralty Chart Datum (ACD)
which is the mean of the monthly lowest tides recorded at Port Louis Harbour. These are recorded over a fairly long
period of time and the average of all the recorded data gives us the value of ACD which is 132 cm above the zero
mark of the tide staff at Port Louis (the previous reference level used for height of tides).
To convert the ACD values to the zero mark of the tide staff, 132 cm should be added to the heights given in the tide table.