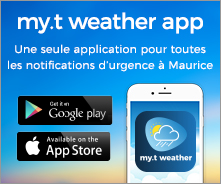 Bulletin prévision - Agalega
WEATHER NEWS FOR AGALEGA ISSUED AT 16H40 ON FRIDAY 23 AUGUST 2019.

GENERAL SITUATION:
Clouds coming from the East South-East will influence the local weather as from tomorrow.
On the other hand a light to moderate airstream is flowing over the region.

FORECAST FOR NEXT 24 HOURS:
Fine weather tonight
The minimum temperature will be about 25 degrees Celsius.

Partly cloudy to Cloudy at times tomorrow with a few showers.
The maximum temperature will be about 29 degrees Celsius.

Wind East-South-Easterly 15 to 25 km/h.
Sea moderate becoming gragually rough as from tomorrow.
Ventures in the open seas are not advised as from tomorrow
Rainfall registered during the last 24 hours from 22 August 2019 at 1600 hours to 23 August 2019 at 1600 hours : 1.2 mm.
High Tides : 20h03 and tomorrow 09h41.
Low Tides : Tomorrow 03h04 and 16h30.
Sunrise (Tomorrow) : 06h21.
Sunset (Tomorrow) : 18h11.
===================================================================
OUTLOOK FOR THE NEXT 3 DAYS FOR AGALEGA.
Mainly fair for next few days
Wind will remain moderate over the region.
Sea state is expected to be rough in the open sea with southerly swells Saturday, becoming moderate afterwards.
===================================================================
COMMUNIQUE DE LA MÉTÉO POUR AGALEGA EMIS A 16H30 CE VENDREDI 23 AOUT 2019.

SITUATION GÉNÉRALE:
Des nuages venant de L'Est-Sud-Est influenceront le temps local à partir de demain.
D'autre part un courant d'air léger à modéré circule sur la région.

PRÉVISIONS POUR LES PROCHAINES 24 HEURES:
Beau temps cette nuit.
La température minimale sera d'environ 25 degrés Celsius.

Mi-couvert a parfois nuageux demain avec quelques averses.
La température maximale sera d'environ 29 degrés Celsius.

Vent d'Est-Sud-Est 15 à 25 km/h.
Mer agitée devenant graduellement forte à partir de demain.
Les sorties en haute mer sont déconseillées à partir de demain.
La pluviométrie durant les dernières 24 heures du 22 août 2019 à 1600 heures jusqu'au 23 août 2019 à 1600 heures : 1.2 mm.
Marées Hautes :20h03 et demain 09h41.
Marées Basses : Demain 03h04 et 16h30.
Lever du soleil (Demain) : 06h21.
Coucher du soleil (Demain) : 18h11.