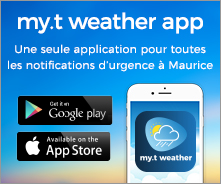 Bulletin prévision - Agalega
WEATHER NEWS FOR AGALEGA ISSUED AT 07H30 ON THURSDAY 26 MARCH 2020.
GENERAL SITUATION :
Clouds associated with an instability zone, evolving to the South-East of the island may influence the local weather at times.

FORECAST FOR NEXT 24 HOURS :
Partly cloudy to cloudy in the morning and during the day with showers at times.
The showers may be accompanied with isolated thunderstorms.

The maximum temperature will be around 32 degrees Celsius.

Cloudy during the night with showers. The showers could be moderate at times with risk of thunderstorms.

The minimum temperature will be around 26 degrees Celsius.

Wind light and variable, strengthening with gusts in showers.

Sea slight beyond the reefs with waves of the order of 1 metre becoming temporarily rough in thundery showers.


Rainfall registered during the last 24 hours from 19 March 2020 at 0400 hours to 20 March 2020 at 0400 hours : 14.9 mm.
High Tides : 17h10 and tomorrow 05h18.
Low Tides : 11h15 and 23h43.
Sunset : 18h19.
Sunrise (Tomorrow) : 06h18.
-------------------------------------------------------------------------------------------------------------------------
COMMUNIQUÉ DE LA MÉTÉO POUR AGALEGA ÉMIS À 07H30 LT CE JEUDI 26
MARS 2020.
SITUATION GÉNÉRALE :
Des nuages associés à une zone d'instabilité, évoluant au Sud-Est de l'île, pourraient influencer le temps local par moments.
PRÉVISIONS POUR LES PROCHAINES 24 HEURES :
Mi-couvert à nuageux ce matin et au cours de la journée avec des averses par moments. Les averses pourraient être accompagnés d'orages isolés.

La température maximale sera d'environ 32 degrés Celsius.

Nuageux durant la nuit avec des averses. Les averses pourraient être modérées par moments avec risques d'orages.

La température minimale sera d'environ 26 degrés Celsius.

Vent léger et variable, se renforçant avec des rafales sous les averses.

Mer peu agitée au-delà des récifs avec des vagues de l'ordre de 1 mètre, devenant temporairement forte sous les averses orageuses.
La pluviométrie durant les dernières 24 heures du 25 mars 2020 à 0400 heures jusqu'au 26 mars 2020 à 0400 heures : 14.9 mm.
Marées Hautes : 17h10 et demain 05h18.
Marées Basses : 11h15 et 23h43.
Coucher du Soleil : 18h19.
Lever du soleil (Demain) : 06h18.