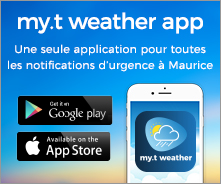 Bulletin prévision - Agalega
WEATHER NEWS FOR AGALEGA ISSUED AT 06H30 ON SATURDAY 30 MAY 2020.
GENERAL SITUATION :
A slightly perturbed airstream is flowing over the region.
FORECAST FOR NEXT 24 HOURS:
After a few showers in the morning, weather will be sunny during the day.

The maximum temperature will be around 31 degrees Celsius.

Partly cloudy tonight with light showers.

The minimum temperature will be around 25 degrees Celsius.

Wind will blow from the East-South-East between 10 and 20 km/h.

Sea moderate with waves of the order of 2 metres in open seas becoming gradually rough tonight.
Rainfall registered during the last 24 hours from 30 May 2020 at 0400 hours to 31 May 2020 at 0400 hours : 1.1 mm.
High Tides : 11h16 and 23h24.
Low Tides : 17h05 and tomorrow 06h02.
Sunset : 17h58.
Sunrise (Tomorrow) : 06h25.
================================================================================
COMMUNIQUÉ DE LA MÉTÉO POUR AGALEGA ÉMIS À 06H30 CE DIMANCHE 31 MAI 2020.
SITUATION GÉNÉRALE :
Un courant dáir légèrement perturbé circule sur la région.


PRÉVISIONS POUR LES PROCHAINES 24 HEURES :
Après quelques averses ce matin, le temps sera ensoleillé au cours de la journée

La température maximale sera d'environ 31 degrés Celsius.

Mi-couvert cette nuit avec des ondées.

La température minimale sera d'environ 25 degrés Celsius.

Le vent soufflera de l'Est-Sud-Est entre 10 et 20 km/h.

Mer agitée avec des vagues de l'ordre de 2 mètres en haute mer devenant graduellement forte cette nuit.


La pluviométrie durant les dernières 24 heures du 30 Mai 2020 à 0400 heures jusqu'au 31 Mai 2020 à 0400 heures : 1.1 mm.
Marées Hautes : 11h16 et 23h24.
Marées Basses : 17h05 et demain 06h02.
Coucher du soleil : 17h58.
Lever du soleil (Demain) : 06h25.