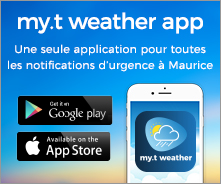 Bulletin prévision - Agalega
COMMUNIQUE DE LA METEO POUR AGALEGA EMIS A 16H35 CE VENDREDI 25 SEPTEMBRE 2020.
SITUATION GÉNÉRALE:

Des nuages peu actifs associés à une ligne d'instabilité venant du sud-est, influencent le temps local.

PREVISIONS POUR LES PROCHAINES 24 heures:-

Nuageux durant la nuit et tôt demain matin avec quelques ondées.

La température minimale sera d'environ 25 degrés Celsius.

Ciel mi-couvert demain.

La température maximale sera d'environ 30 degrés Celsius.

Le vent soufflera de l'est-sud-est à environ 20 km/h avec des pointes de 50 km/h sous les averses.

Mer agitée à localement forte avec des vagues de 2 à 2 mètres 50.
Des houles du secteur sud de l'ordre de 2 mètres sont attendues demain après-midi.
La pluviométrie durant les dernières 24 heures du 24 Septembre 2020 à 1600 heures jusqu'au 25 Septembre 2020 à 1600 heures : 2.1 mm.
Marées Hautes : 22h46 et demain 12h10.
Marées Basses : 17h09 et demain 04h48 .
Lever du soleil (Demain) : 06h00.
Coucher du soleil (Demain) : 18h10.
==============================================================================
WEATHER NEWS FOR AGALEGA ISSUED AT 1635 HOURS ON FRIDAY 25 SEPTEMBER 2020.
GENERAL SITUATION:

Less active clouds associated with an instability line, coming from the south-east, are influencing the local weather.

FORECAST FOR NEXT 24 HOURS:-

Cloudy tonight and early tomorrow morning with few showers.

The minimum temperature will be around 25 degrees Celsius.

Partly cloudy tomorrow.

The maximum temperature will be around 30 degrees Celsius.

Wind will blow from the east-south-east at about 20 km/h with peaks of 50 km/h in showers.

Sea moderate to locally rough with waves of 2 to 2 metres 50.
Swells from the southern sector of the order of 2 metres are expected tomorrow afternoon.

Rainfall registered during the last 24 hours from 24 September 2020 at 1600 hours to 25 September 2020 at 1600 hours : 2.1 mm.
High Tides : 22h46 and tomorrow 12h10.

Low Tides : 17h09 and tomorrow 04h48.
Sunrise (Tomorrow) : 06h00.
Sunset (Tomorrow) : 18h10.