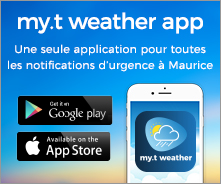 Special Weather Bulletin
Tue, Jan 22, 2019


Communiqué Spécial émis à 12h00 ce Mardi 22 Janvier 2019.

Une vague de chaleur sévit actuellement sur notre région, ce qui provoque des températures superieures à la moyenne saisonnière de 3 à 4 degrés Celsius.

Sur les régions côtières les températures maximales sont de l'ordre de 33 à 35 degrés Celsius et sur les hauteurs de 29 à 31 degrés Celsius.

Cette situation va durer jusqu'à la fin de la semaine.


Le public est conseillé de suivre ces conseils pratiques:
1. De ne pas s'exposer trop longtemps au soleil et de rester à l'abri de la chaleur.
2. De porter des vêtements léger, amples et de préference en cotton.
3. De bien s'hydrater régulièrement.
---
Special Communique issued at 12h00 on Tuesday 22 January 2019.

A heat wave is currently occuring in our region which is causing above normal seasonal temperatures of 3 to 4 degrees Celsius.
In coastal areas, the maximum temperatures are of the order of 33 to 35 degrees Celsius and over the high grounds between 29 to 31 degrees Celsius.

This situation will last until the end of the week.


The public is advised to follow these useful advices:
1. Not to expose for too long in the sun and to stay away from the heat.
2. Wear light, loose and preferably cotton clothing.
3. Be well hydrated regularly.