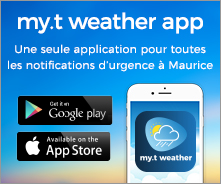 News and Events
The Summer 2022-2023 Outlook gives an indication of the expected evolution of the 2022-2023 South West Indian Ocean (SWIO) summer namely: cyclone activity, summer rain and temperature in Mauritius...
Precautions
Precautions to be taken before a Tsunami
When To Evacuate?
When a Tsunami Warning Bulletin is issued by the Mauritius Meteorological Services, announcements to evacuate will be made through TV & radio stations and Police hailers. The public is advised to follow the directives of the Police during evacuation.
Where to Evacuate?
Those living or working in coastal areas should immediately move to higher grounds or evacuate vertically wherever tall strong building, made of concrete, is available.
Things to Remember
If you see an unexpected rise or fall in the sea, a tsunami may be approaching. You are strongly advice to move uphill.
Stay tuned to your radio or TV during a disaster. Information bulletin regarding the situation will be broadcast regularly
Follow the emergency signs and the directives of the Police
Never go to the coast to watch a tsunami. Tsunamis move faster than a person can run
Do not run to the beach until Emergency Officials give the "All Clear" signal
All low lying coastal areas can be struck by a tsunami
Tsunami can occur at any time of day or night
Tsunami can travel up rivers and streams from the ocean
Tsunami can easily wrap around Island and be just as dangerous on coasts not facing the source of the tsunami
Prepare an emergency kit with basic necessities (water, food items, blankets, first aid supplies, medicines, radio torch) which is portable during evacuation.
Share your knowledge with family and friends, it could save their lives