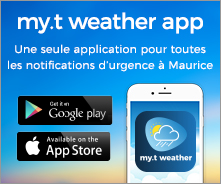 Seasonal Climate Forecast
MAURITIUS METEOROLOGICAL SERVICES
Winter 2018- Seasonal Climate Outlook Updates
1.0 Introduction
An update of Winter 2018 Seasonal Outlook, prepared by the Mauritius Meteorological Services, is herewith presented. Over the last couple of months, El Nino Southern Oscillation (ENSO) was neutral. Other oceanic and atmospheric parameters have change slightly.
The content of this update is meant to be used as general guidelines for planning purposes by stakeholders in various socio-economic sectors.
2.0 Climate during first half of Winter 2018
The following have been observed during the first half of Winter 2018:
Over Mauritius and Rodrigues, temperature at the beginning of the winter season was above normal. Cooler conditions prevailed at the end of June and during the month of July.
In Mauritius, rainfall was below normal during May and normal in June and slightly above in July.
Rainfall over Rodrigues was below normal in May and above normal in June and July.
3.0 MMS Outlook for second half of Winter 2018
(a) Rainfall
Rainfall is expected to be below normal during August and close to normal in September and October.
Consequently, accumulated rainfall over Mauritius for Winter 2018 is likely to be slightly below normal with a total amount of 575 mm for the period May to October 2018. The Central Plateau, the eastern and southern slopes are likely to be wetter than the other regions.
At Rodrigues, near normal rainfall is expected in August and September, and slightly below in October. Overall during Winter 2018 normal rainfall is expected over Rodrigues amounting to 350 mm.
(b) Temperature
Day and night temperature is likely to be slightly above normal, both in Mauritius and in Rodrigues.
However, cold spells may set in for a few days, especially in August.
It is still likely that minimum temperature may drop to 12 degrees Celsius at Mauritius and around 14 degrees Celsius at Rodrigues during the remaining winter months.
Table 1: Expected monthly average maximum and minimum temperatures over Mauritius.
Month

Aug

Sept

Oct

Region

Max

Min

Max

Min

Max

Min

EAST

26

19

27

20.5

28

21.5

WEST

28

18

29

19

30

19.5

NORTH

28

19

29

19.5

30

20.5

SOUTH

26

19

27

21

28

21.5

CENTRE

24

17

25

17.5

26

18.5
Table 2: Expected monthly average maximum and minimum temperatures over Rodrigues.
Month

Aug

Sept

Oct

Region

Max

Min

Max

Min

Max

Min

Pte-Canon

27

20

28

21

29

22

Plaine Corail

26

20

27

21

28

21.5
Other features of winter weather
i) Winter months in Mauritius and Rodrigues are windier than in summer. It is likely that the trade wind, mainly from the East South East, will blow at an average speed of 20 to 30 km/h.
Occasionally, the passage of strong anticyclones to the south of the Indian Ocean may strengthen the wind over the Mascarenes.
ii) On some occasions, the sea is likely to become very rough with heavy swells generated by the combined effect of deep travelling lows and strong anticyclones to the south of the Mascarenes. The breaking waves are likely to reach the southern and western shores of Mauritius and Rodrigues and cause temporary inundation of low lying areas.
iii) In line with the findings of IPCC fifth Assessment Report, extreme weather events including high intensity rainfall and large variation in temperature are very likely to occur occasionally over Mauritius and Rodrigues.
Meteorological Services
St Paul Road, Vacoas
06 August 2018