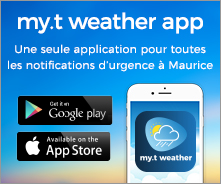 Seasonal Climate Forecast
MAURITIUS METEOROLOGICAL SERVICES
Summer 2021-2022 Outlook
Mauritius and Rodrigues
Introduction
This report gives an indication of the expected evolution of the 2021-2022 South West Indian Ocean (SWIO) summer - namely, the likely cyclone activity, summer rain and temperatures in Mauritius and Rodrigues. The official cyclone season for the Republic of Mauritius is from 01 November to 15 May of the following year.
The contents of this outlook are meant to be used as general guidelines for planning purposes by stakeholders in various sectors.
General Background
Correlations between sea surface temperature and summer rainfall over Mauritius, Rodrigues have been fairly well established. Persistence and the behaviour of meteorological and oceanic parameters in analogue years have been utilised to generate the most likely scenario for the 2021-2022 Southwest Indian Ocean summer. Outputs from global climate models as well as global, regional and local predictors are analysed during the process of preparation of this outlook.
Extreme Weather and Climate change
The "Climate Change 2021: The Physical Science Basis, Contribution of Working Group I to the Sixth Assessment Report of the Intergovernmental Panel on Climate Change" (IPCC AR6 WGI), August 2021, confirms that "Human-induced climate change is already affecting many weather and climate extremes in every region across the globe. Evidence of observed changes in extremes such as heatwaves, heavy precipitation, droughts, and tropical cyclones, and, in particular, their attribution to human influence, has strengthened since the Fifth Assessment Report (AR5)".
The IPCC AR6 WGI points out that "in direct relation to increasing global warming, many changes in the climate system are becoming larger. Thus, there will be an increase in the frequency and intensity of heavy precipitation and an increase number of intense tropical cyclones."
It is therefore very likely that extreme weather events in the form of heavy rainfall, violent thunderstorms, mini tornadoes, rapid intensification of tropical cyclones may occur during the forthcoming cyclone season 2021-2022. Short duration heavy rainfall will result in localised flash floods.
Conclusions
This seasonal outlook is based on the following facts:
i) La Nina conditions, that is cooler Sea Surface Temperature (SST) in the Central Equatorial Pacific Ocean, has established itself as at October and that this cold episode will persist until February 2022. Thereafter, at the end of the summer months El-Nino Southern Oscillation (ENSO), that is the pattern of SST in the Pacific Ocean will again become neutral.
ii) Indian Ocean Sea Surface Temperature will be near average with slightly positive anomalies to the east of the basin until December 2021. The Indian Ocean Dipole (IOD) will remain neutral throughout summer.
iii) The Subtropical Indian Ocean Dipole (SIOD) which is currently neutral is expected to become slightly positive by the end of summer.
1. Tropical cyclone formation has a large annual variability in the South West Indian Ocean (SWIO) tropical cyclone basin. The long term mean number of cyclones in the SWIO is around 10.
1.1 During weak La Nina years, the uncertainty as to the number of cyclone formations is high. However, analysis of analogous years indicates that during cold La Nina years, the eastern region of the basin is more conducive to cyclone formation.
1.2 During summer 2021-2022, between 9 to 11 named storms are likely to evolve in the SWIO tropical cyclone basin. Around 5 of these formations are likely to intensify to tropical cyclones
1.3 At first, most of the cyclones will form to the east of Diego Garcia, away from the Mascarenes. However, their west-south-west to south-west track may bring the centre of these storms closer to the inhabited Islands. As from the end of February 2022, the region of cyclogenesis and cyclonic activity may spread to the west of the basin as well.
1.4 Convective activities are likely to flare up as from the first fortnight of November 2021 with low pressure areas developing in the Equatorial region. There is a 50% chance that one of these lows may intensify into a tropical storm.
1.5 All named storms that will develop in the SWIO basin will not necessarily be a direct threat to the islands of the Republic of Mauritius
2. The onset of summer rain will most likely be around the second fortnight of December 2021
2.1 Cumulative summer rainfall is likely to be slightly below normal with around 1150 mm at Mauritius, representing 85% of the long term mean rainfall. Rodrigues is likely to receive around 560 mm of rainfall, which is 80% of the normal summer rain.
2.2 Summer rainfall will not be evenly distributed, either temporally or spatially. Relative short rainy spells may be followed by fairly long dry spells.
2.3 Consistent with IPCC AR6 findings, the frequency of short duration, high intensity rainfall has increased over the last two decades. This summer again, localised heavy rainfall is likely to cause floods or flash flood.
3. On average, air temperature will be close to the long term mean throughout summer 2021-2022.
However, on certain days, it is likely that temperatures will exceed the monthly average by more than two degrees Celsius in some locations. Maximum day temperature may exceed 35 degrees Celsius at Port Louis and in coastal areas during peak summer months.
3.1 At Rodrigues, maximum temperatures are likely to reach 32 degrees Celsius along coastal areas on certain occasions.
3.2 Occasional above normal temperatures, coupled with prolonged periods of high humidity and light wind conditions may result in torrid conditions particularly during the months of December to March, causing severe discomfort to the vulnerable groups of the population.
3.3 During January to March 2022 atmospheric conditions will become conducive to the occurrence of extreme weather events such as short duration high intensity rainfall, local flash floods, and violent thunderstorms together with mini-tornadoes.
Note: This report may be updated upon the availability of fresh information.
30 October 2021
Meteorological Services
Vacoas.