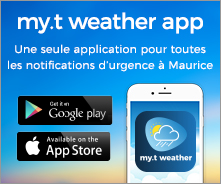 News and Events
The Summer 2022-2023 Outlook gives an indication of the expected evolution of the 2022-2023 South West Indian Ocean (SWIO) summer namely: cyclone activity, summer rain and temperature in Mauritius...
Precautions
Preparedness And Precautions in The Event of a Cyclone
Before The Cyclone

Ensure that your house is in good condition and can withstand cyclone gusts.
Trim tree branches likely to cause damages to your house, telephone and electricity lines.
Clear your property of loose material that can cause injury and damage during extreme winds.
Identify secure places for your boat.
Be acquainted with the nearest cyclone refugee centres.
Prepare an emergency kit consisting of:
Portable AM/FM radio and fresh batteries.
Torch, lamps, candles, matches, etc.
Water containers.
Canned food, can opener, stove with sufficient gas.
Rice, flour, biscuits, cheese, etc.
First aid kit and essential medicines.
Clothes secured in plastic bags.
Tool kit for emergency repairs (hammer, nail, rope, etc..)
During a cyclone warning class l

Make sure your emergency kit is ready.
Monitor cyclone bulletins on Radio/TV.
Prepare to secure windows and doors with shutters or shields.
During a cyclone warning Class ll

Verify that your emergency kit contains all essential items

Store sufficient amount of drinking water
Continue to monitor cyclone bulletins on Radio/TV.
Upon the issuance of a cyclone warning Class lll

Complete all preparatory measures.
Fix shutters.
Secure doors and windows.
Store loose articles.
Avoid areas prone to storm surges and flooding.
Shelter domestic animals.
Secure vehicles.
Those in insecure dwellings, move as early as possible, to cyclone refugee centre with your emergency kit.
Avoid going outside.
Monitor closely cyclone bulletins on Radio/TV.
During a cyclone warning Class IV

Gusts of 120 km/h or more are occurring

Stay inside. Seek shelter in the safest part of the house.
Disconnect all electrical appliances.
Listen attentively to cyclone bulletins and advice on the Radio / TV.
If the house starts to suffer important damages, protect yourself with mattress, rugs or blankets.
Passage of the 'EYE' of the cyclone

Beware of the passage of the 'EYE'. Do not assume that cyclonic conditions are over. The calm period is always followed by violent winds from the opposite direction.
After the cyclone
Do not leave your shelter until the all-clear signals have been given by relevant Authorities.
Beware of fallen power lines, damaged buildings and trees and flooded water courses.
Do not consume fallen fruits.
Boil water for drinking purposes.

Clean yard and drain out stagnant water to prevent proliferation of mosquitoes/diseases