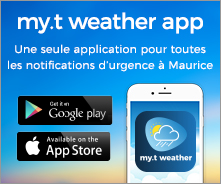 News and Events
The Summer 2022-2023 Outlook gives an indication of the expected evolution of the 2022-2023 South West Indian Ocean (SWIO) summer namely: cyclone activity, summer rain and temperature in Mauritius...
Torrential Rain Warning System
Warning system and other info
When does torrential rains conditions exist?
The criteria for torrential rain vary from country to country. Torrential rain conditions is said to exist when the prevailing weather at Mauritius or Rodrigues produces 100 millimeters of widespread rains in less than 12 hours and that this heavy rain is likely to continue for several hours.
Torrential rain can cause flash floods or urban floods in any locality while the most likely effect is water accumulations in flood prone areas. Heavy rain may also be responsible for the overflow of rivulets and streams or even major rivers leading to riverine flooding. Such floods usually occur downstream where it may not be necessarily raining heavily. Another hazard in the aftermath of heavy rain is landslide which can occur on hill or mountain slopes which are usually considered as high-risk areas.
Mauritius Meteorological Services provide flood warning of a general nature without being site specific or quantifying water level in rivers.
Torrential rain warning bulletin
As soon as the Meteorological Services has registered 100 mm of rain in a period of 12 hours at several stations over the Island, it will advise the Ministry of Education, Ministry of Tertiary Education and Human resources and the Police and will issue warnings at regular interval through the MBC and private radio stations.
Whenever torrential rain conditions exist, all schools, pre-primary, primary, secondary as well as tertiary institutions will not be opened.