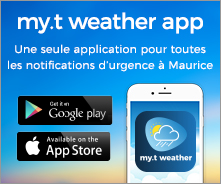 About Us
Legislations
THE NATIONAL METEOLOROLOGICAL SERVICE (Provisional Legislations)
PART I-PRELIMINARY
1. Short Title
The Act may be cited as the National Meteorological Service Act
2. Interpretation
In this Act-

"Republic of Mauritius"means Mauritius and the outer islands- Rodrigues, Agalega, the Cargajos Carajos(islands of St.Brandon), Chagos Archipelagos and Tromelin;

"Director"means the Director of the National Meteorological Service;

"Minister"means the Minister to whom responsibility for meteorological matters is assigned.
PART II- NATIONAL METEOLOROLOGICAL SERVICE
(1) There shall be for the purposes of this Act a National Meteorological Service.

(2) The Head of the National Meteorological Service shall be the Director.

(3) The Director shall be assisted by such officers as may be necessary
4. Functions of the National Meteorological Service
The National Meteorological Service shall:
(a) Make, record and archive meteorological and other observations required for meteorological and related purposes;
Investigate the state of the atmosphere and ocean and forecast weather;
Monitor and assess climate change;
Issue warnings during extreme weather events such as cyclones, and other weather conditions likely to endanger life or property;
Promote the use of , and supply, the meteorological information;
Publish timely meteorological reports and bulletins;
Conduct and assist in research and investigations for the advancement of the meteorological science;
Provide advice on meteorological matters;
Co-operate with the authority administering similar services of any other country, in relation to any of the matters specified in the section;
Work in close collaboration with the World Meteorological Organisation.
2. The National Meteorological Service shall perform its functions, considering guidelines from the International Meteorological Organisation (IMO), the International Civil Aviation Organisation (ICAO), the UN Framework Convention on Climate Change Secretaria, and the other UN Specialised Organisations.
3. The NMS will be the sole collector and supplier of meteorological information and products.
5. Powers of the Director
The NMS shall have such powers as may be necessary to carry out the functions of the National Meteorological Service under this Act and, in particular:
to establish offices and stations for the observation of parameters related to weather. Water and climate over land, in the atmosphere and the oceans;
to arrange with any institution, authority or person to observe and record meteorological observations;
to ensure optimum use of communication facilities for the transmission and reception of meteorological data and information at the local, regional and international level;
to ensure the existence of appropriate capacity building to fulfill the obligations under section (4);
to be the Permanent Representative of Mauritius with the World Meteorological Organisation;
to levy charges for forecasts, meteorological data and information, advice, publications and other matters supplied in pursuance of this Act to be used for commercial purposes.

6. The Minister may make such regulations as he thinks fit for the purposes of the Act.